10: Things You Should Know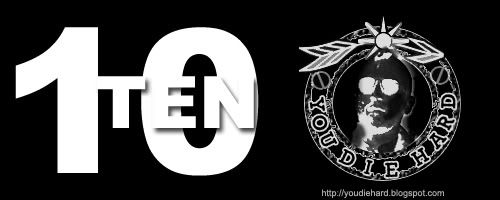 10 things you should know instead
Not because you can't trust anyone, it doesn't mean that you shouldn't trust anyone anymore.

You don't like being doubted by your own friends, your own parents, your own brothers, your own classmates, that's the same way to them. Sometimes you have to trust some strangers. Nakakainis pag bumisita ka sa isang lugar at feeling mo wala silang tiwala sa iyo dahil lang sa di ka nila kilala.
Not all unique people are qualified.

If you think that you're unique, it doesn't mean that you're qualified. You can be unique and useless at the same time. Marami kasing tao na akala nila kabilib bilib na sila dahil kakaiba sila.


Not all successful people are fulfilled.

Do you think that becoming successful in your career or becoming rich can make you happy in full? Don't waste your precious time, life is short, you should discover the great things hidden around you since you were born. Nabuhay ka para

mabuhay

hindi para paghandaan ang buhay.
"Sipag at Tiyaga" is not enough if you want your life to prosper.

Instead you should also consider the 3 most important things/techniques in getting rich:

1.

Magtipid.

Bumili ka ng kailangan mo lang, i-maximize ang capability ng pera mo, pumili ng mas murang bilihin at pumunta sa mas murang bilihan, wag bibili ng masisira lang, bawat sentimo importante, wag bili ng bili, magtabi ka ng pera.

2.

Maginvest.

Gastusin ang pera para makadagdag ng kaalaman, pag kumita ka palaguin ang pera, bumili ng talagang kailangan mo sa negosyo o trabaho, at wag matakot gumastos kung tantsa mo na mas malaki ang kapalit.

3.

Protektahan ang Kayamanan mo.

Nakakapagtabi ka nga ng pera at lumalago kung di ka marunong magmaintain, wala rin. Ilagay sa bangko o i-safety ang pera mo. Kapag lumagpas na sa 100,000 ang pera mo kailangan mo nang magkabaril sa loob ng bahay. Siguraduhin lang na hindi maaagaw sa iyo ang baril mo at malayo sa mga bata. Sumunod ka sa batas. Siguraduhing walang magkakasakit sa pamilya mo para di ka gumastos. Always secure your property.

There are other things to consider if you want to get rich like discipline, respect your competitors and other concerns but these three are the most important. Don't make friends with corrupt politicians or well-known personalities just to get rich; instead you have to be independent and confident to yourself. Make a vow to do all kinds of good things with your money.
Not all religious personalities are pedophiles, hypocrites or even extremists who inspire terrorists.

The media made you stop believing in your religion and they made you turn your attention to pagan practices. Do not worship them; there are more pedophiles, hypocrites and terrorists in the media than in the churches or mosques. Believe me because I'm always right. Even the dumb-looking religious people are knowledgeable if you only spent few hours with them. They can say something stupid to you like the dinosaurs and Adam and Eve co-exist but if you only go down deeper… ask them some questions related to the realm of the unknown, they are capable of sharing something to you that you've never heard before and it's inspiring! Support your religion and don't support any communist inspired groups because the Communist Chinese government is just using them. They are the ones who smuggled goods in our country. Don't you ever use religion for your own interest.

Don't make their mistakes an excuse for not listening to what they say. You don't listen to them because you are avoiding your obligations and you don't want to do what is right.

Life is always not how you expect it to be.

When you were a child you thought that all politicians and people of the law (the government, the military and the police) are nobles. They are not! They spent most of your taxes for their own interests. Your taxes will go to the pimps who sell pleasure, some to engineers who build mansions and some to hired killers. You will still meet some of them who are righteous. You will be surprise if you met somebody that you think was an evil person but you will realize that he's not that bad at all. You will be surprise if you learned that some of the people that you love are corrupt too in their own way. Always face the truth and judge wisely. It is ok if you never succeed in life but always hope and fight! There is no such thing as giving up.